A week ago we had the pleasure of attending an event hosted by the Art of Fashion and Fresh Collective – aptly titled "The Retailer's Point of View". Laura Bernhardson, CEO and founder of Fresh Collective gave an inspiring and passion-packed presentation that armed designers with great information about the business of retail, and the importance of building strong relationships.
Fresh Collective has an interesting model that has been fine-tuned over the years. Truly built in the spirit of growth and collaboration, the retailer has expanded to multiple locations, and all with a consignment model. Typically 'consignment' does not elicit a positive reaction from either retailers or suppliers, but Fresh Collection makes it work.
WHY CONSIGNMENT WORKS FOR THE RETAILER
"The bottom line is it allows us to work with emerging designers."
-Laura Bernhardson
Fresh Collective has a customer who appreciates and wants to support unique, local artists and designers. But any retailer (and designer) will tell you that an emerging designer business is never easy. Despite high-levels of design training, it can take years for a designer to perfect the fit, fabric selection, assortments, marketing, and even sourcing. Most retailers will wait until a brand is more established before jumping into business together – for all of the reasons above and more.
Through a consignment partnership, Fresh Collective is able to protect its profit, and provide their customers with the new, saleable, local designs they desire. The designers walk away with customer and retailer feedback and guidance, continuous cash flow, and the opportunity to develop their business.
CUSTOMER APPROPRIATE PRODUCT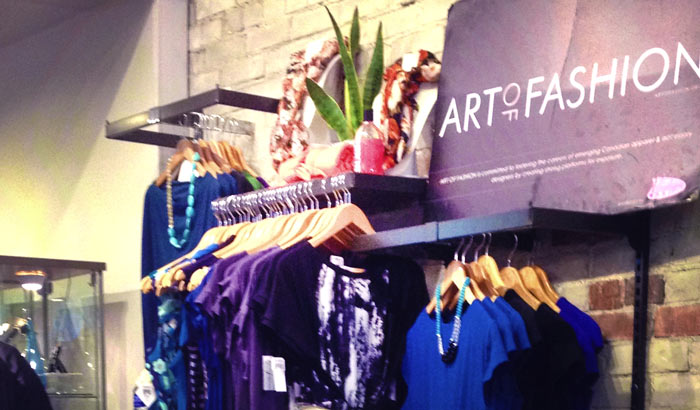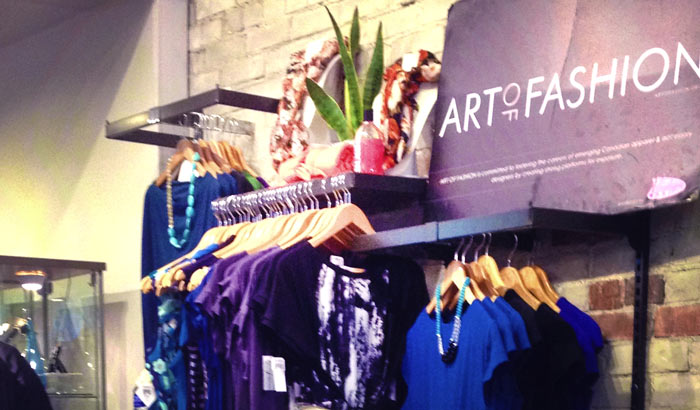 Maintaining assortment integrity and merchandising can be difficult for a retailer with a consignment supplier. Often the supplier considers the space in-store to be 'rented' instead of part of the retailer's own. Many large retailers, like Hudson's Bay prefer this type of agreement. However, in a smaller store, the retailer will still want to maintain control over their environment and product selection.
Ms Bernhardson does this extremely well – not a single product reaches the hanger or shelves in-store without first being chosen. Fresh Collective's mission really guides each product choice, "to inspire joyful living and self-expression, one relationship at a time". Colour and print with the practical aspects required (the customer must be able to ride her bike in each day piece, and it must cover her bra straps) are all evident on the sales floor.
Working closely with designers by providing feedback on the design, and clearly articulating what her customer is looking for ensures success for both Ms Bernhardson and the designer.
PARTNERSHIP IS A LEARNING TOOL
Consignment has the effect of putting a higher level of ownership back on the designer to ensure sales plan are met. After all, they will only be paid for what they sell. The feedback from the buying team early on in the development process is the first way in which the retailer is able to ensure a high quality product which meets the customers' wants.
Even more important is the direct interaction with the customer Fresh Collective affords its designers. Events, and even in-store communication is invaluable and often something designers receive primarily post-season, after the next collection is already designed and produced.
Smaller runs and in-season repeats are a lean and effective way to learn what resonates with customers – without huge financial mistakes in inventory buying. And the direct sales feedback means the designer can make quick changes, swapping out merchandise that isn't selling and correcting any mistakes. This fast action keeps the retailer's sales floor fresh, and gives the opportunity for the designer to increase his/her sales.
POWER OF AN EARLY OPPORTUNITY
Whereas a retailer like Holt Renfrew will require a cohesive, high quality line with perfected fit and capacity to create monthly collections, an emerging designer with Fresh Collective has a bit of time to work with the retailer to perfect all aspects of their brand. Because their customer is looking for novel ideas, the designer can test and try new things.
The experience, with a growing customer and sales base is ideal for a new designer. And a stable yet unique brand matrix is perfect for Fresh Collective. It's a model that works for the retailer, their collection, and supplier base – an ideal retailing scenario.